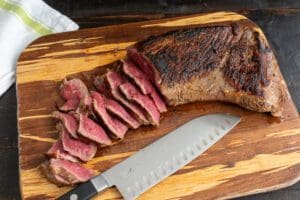 The National Food Crime Unit (NFCU) is investigating potential food fraud involving pre-packed sliced beef which was labelled as British but came from South America and Europe.
A supermarket in the UK has been forced to remove products from its shelves.
The unit has declined to name the retailer or the supplier of the meat.
Andrew Quinn, deputy chief of the NFCU, said it was not food safety issue but a matter of food fraud, which it takes very seriously.
The products include pre-packed sliced beef and deli products.
Mr Quinn said: "The retailer was notified on the same day that we took action against the food business suspected of the fraud and immediately removed all affected products from their shelves.
"The retailer continues to work closely and cooperatively with the NFCU investigation to progress the case against the supplier. This is not a food safety issue but a matter of food fraud."
The BBC has contacted UK supermarkets for comment. Tesco, Sainsbury's, Asda, Aldi, Lidl, the Co-op, Waitrose, Morrisons, Iceland and Marks & Spencer said they are not the retailer that had been supplied with the beef.
Charlotte Di Cello, director of trading at Waitrose, said: "We know each … Read More