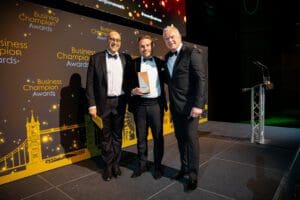 One of the UK's leading business strategists and performance coaches, Will Polston, has been named as the Business Enabler of the year at the annual Business Champion Awards.
The Essex-based Polston was among over 300 guests at the East Wintergarden in Canary Wharf, with finalists represented in 14 categories with 140 finalists vying for top spot.
Polston is renowned for his transformative approach to helping clients to break through their barriers and achieve more than they ever felt possible.
Will originally achieved "traditional success" with an international career as a broker but despite this he found himself feeling unfulfilled. It was only following a personal development seminar, that he finally gained the clarity that deep down, his belief that "money equals happiness" was not true and what he really wanted to do was empower others to achieve their dreams as he believes this has a positive impact on others too –  something he calls the ripple effect.
Speaking about the award win and his approach to coaching and development, Polston said; 'I am absolutely humbled to have won this award. I was up against a phenomenal group of people and we all have different approaches but one common mission – … Read More